It's been your pleasure to visit the Online Home of Steve The Brawler Lawler!
PHOTO GALLERY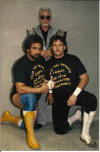 LAWLER WITH DINO MINELLI AND SAM KENT
BLOODIED, BUT NEVER BEATEN AND NEVER OUT!


READY TO BUST SOME HEADS AND HURT SOMEBODY
IF LIDDELL WAS IN THE CAGE, HE WOULD BE IN TROUBLE TOO!


THUNDER AND LIGHTNING WITH THE LATE SAM KENT
BULLDOG RAINES & STEVE "THE BRAWLER" LAWLER


STEVE THE BRAWLER LAWLER: READY FOR ACTION
READY FOR ACTION !


YOU DON'T WANT ANY OF THE BRAWLER !
LAWLER IS NO STRANGER TO GOLD AND NEVER HAS BEEN !


LAWLER IS AN INSPIRATION AND HERO TO SOME, SHOULD BE TO EVERYBODY!!!
JON MICHAELS, STEVE LAWLER AND DICK SLATER


JON MICHAELS, LUNA VACHON AND STEVE LAWLER
STEVE THE BRAWLER LAWLER AND LUNA VACHON

some photos courtesy of W. Reece, S. Lawler, S. Young, and Combat-Hooligans.com
---
HOME (updated 12-01-12)
BIOGRAPHY (updated 12-01-12)
UPCOMING APPEARANCES (updated 12-01-12)
LINKS (updated 12-01-12)
CONTACT INFO (updated 12-01-12)