It's been your pleasure to visit the Online Home of Steve The Brawler Lawler!
BIOGRAPHY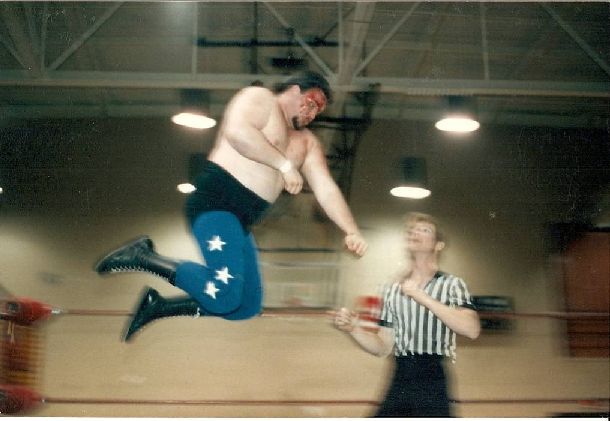 Born: JANUARY 1965 (NOT THAT THIS IS ANYONE'S BUSINESS!!)
Birthplace: GAINESVILLE, GA

Hometown: ANYWHERE HE WANTS TO BE !
Year Started:1984
Trainer: JIM LEON & GLENN HOLBROOK
First Match: VS. THE GREAT KENKO

Promotions Wrestled in: AWA,SCW,NWA,DEEPSOUTH,GA CHAMPIONSHIP,NAWA, NGWA, GEORGIA ALL STAR, PEACH STATE CHAMPIONSHIP, TURNBUCKLE CHAMPIONSHIP WRESTLING
Managers: SAMMY KENT, RONNIE GOSSET, DANNY DEES, MAD JACK, MR. DONNIE,

Favorite Partners: DINO MINELLI, NIGHTMARE TED ALLEN, TERRY LAWLER, JOHN MICHAELS, BULL DOG RAINES, COWBOY DENNIS GAYLE
Toughest Opponent (s) : ABDULLAH THE BUTCHER, COWBOY DENNIS GAYLE
Most Hated Opponent(s) : TOMMY RICH, DUSTY RHODES, MR. WRESTLING #2,RANDY ROSE, JIMMY POWELL, BUFF BAGWELL, CRAZY LUKE GRAHAM, THE BULLET, JOEL DEATON, BILLY BLACK, NICK BUSICK, LEE THOMAS, SCOTT STUDD, GRIZZLY BOONE
Favorite Style of Match: STEEL CAGE, STREET FIGHT ,BRASS KNUCKLES, NO HOLDS BARRED
Titles Held: WORLD BRASS KNUCKLES, GEORGIA HEAVY WEIGHT, GA TELEVISION, SCW TAG TEAM, NGWA TAG TEAM,
Wrestlers Trained: BUFF BAGWELL, DISCO INFERNO, TERRY LAWLER, MURDER ONE, MANY OTHERS
Personal Motto: WRESTLING HAS BEEN GOOD TO THE BRAWLER AND THE BRAWLER HAS BEEN GOOD TO WRESTLING
Before Wrestling, Steve Lawler was going into the Marine Corps to serve his country. However, a very unfortunate car wreck prevented Lawler from being able to join on his intended date. Even though Lawler rehabilitated himself vigorously through sheer guts and determination, he still was unable to serve as a Marine. This slight caused Lawler much anger and resentment, since he felt that the country he sought to serve didn't want his service or skills. Lawler vowed personally to make other s pay for what he felt was the unfairness of the situation and knew he would be "a man without a country" as he felt he had been betrayed by fate ending his boyhood dream.
After several scuffles with the law and run-ins with bad crowds, Lawler sought to find a career which he could enjoy making money and making folks pay for his misfortune. He was amazed when he saw pro wrestling on TV and sought out a chance to find someone to train him. In pro wrestling, Lawler saw that he could participate in matches and win championships and make loads of money. He saw no better way to ease the pain of bad fate, than to cause others pain and misery as well. Lawler finally found a trainer in Jim Leon and Glenn Holbrook. To Lawler's surprise, Holbrook and Leon were challenges and very tough individuals. Two persons who tested Lawler's skills in many ways. While Training, Lawler would vow he didn't need to learn how to wrestle, because he knew how to fight, but Leon and Holbrook tied him up in so many submission moves that Lawler finally saw that he could be more lethal if he combined some great wrestling holds to his already dangerous fists. During one of his first training matches is where he was dubbed the nickname that stuck with him all his career and to this day... "The Brawler"!
After many weeks of training, Lawler got his break with the help of Cowboy Dennis Gale. The two formed a tag team that went all over the South and the West leaving broken bones and battered bodies of their opponents. Wrestlers would ask the matchmaker to change the card if they were booked to face Gale and Lawler. Lawler was enjoying his new sadistic profession and enjoying taking folks out of the profession as he was taken out of his.
Lawler worked for Assassin Jody Hamilton in Deep South Wrestling and feuded with Crazy Luke Graham. As fans hated Graham, Lawler was cheered during this period, but finally showed his true colors when he won the title. Lawler continued in SCW and Deep South on a terror tour as a singles wrestler and as a team wrestler with John Michaels and The Nightmare in Bad Company, and with Dino Minelli in Thunder and Lightning. Led by devious Manager Sir Samuel F. Kent, The Brawler and The Latin Attraction became three time tag champs feuding with the team of Georgia Power, Jimmy Powell and The Nightmare. As far as chemistry and ability in the ring, Minelli and Lawler were compared to the Rock and Roll Express and other great teams at the time. Unfortunately, this team ended before its time, and a bitter feud ensued.
Lawler was shown the ropes and learned much in great matches and battles with Randy Rose, Ted Allen, Ron Starr, Mr. Wrestling 2, Dick Slater, Ken Timbs, Dusty Rhodes, Mike Golden, Abdullah the Butcher, and many more. Lawler also ran a wrestling school for the Masked Superstar and trained many wrestlers. Lawler also spent time in Peach State Wrestling feuding and winning titles and breaking bodies there.
Lawler had left the sport for a while and had a very successful career with a major building supply company. In the last few years, Lawler has only occasionally wrestled and has been retirement for sometime. Lately, Lawler has been in a successful business career with a major motorcycle distributor. However, Lawler while thinking about how he was robbed of what he wanted, how he was not able to achieve his dream, has now vowed to come out of retirement and lost thirty plus pounds to get in shape for it.
A recent phone call from the "Baddest Man on the planet" may sum it up best :
"The Kids of today have it too easy, they wouldn't have lasted 5 minutes when I broke in professional wrestling, and I have some scores to settle with some losers I have despised for twenty years. The Name of The Brawler will be known again to all ! With Bulldog Raines by my side, Sheer destruction will occur. Folks will be hurt, bodies will be left laying, bones will be broken, careers will be ended. Call the FBI! Call Homeland Security! Call the Marines if you like. NOTHING WILL HELP YOU AND NOTHING WILL STOP ME! STEVE THE BRAWLER LAWLER IS BACK!!!!!.... and YES, IT HAS BEEN YOUR PLEASURE !" *click*
---
HOME (updated 12-01-12)
BIOGRAPHY (updated 12-01-12)
UPCOMING APPEARANCES (updated 12-01-12)
LINKS (updated 12-01-12)
CONTACT INFO (updated 12-01-12)